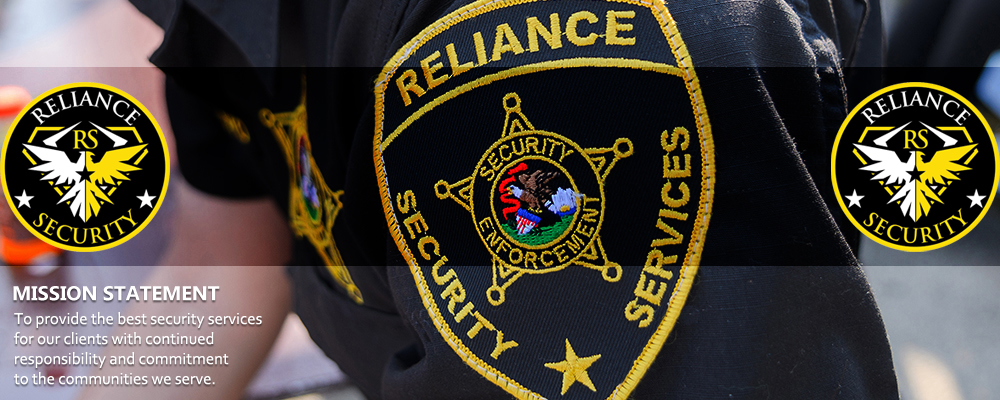 Dependence - Trust - Confidence
Welcome to Reliance Security Services
Security is defined as "The Quality or State of being secure, freedom from danger or loss". Danger can include fire, natural disaster, criminal activity or other unforeseen threats. Loss can mean anything from loss of property to loss of life. Since the word security means so much, wouldn't you expect more than just a guard?
If you feel that your current security program needs improvement, please allow us the opportunity to conduct a complementary security survey for you. The survey will allow us to provide you with an expert analysis of your property's safety and security program. Our experienced professionals will evaluate your current program and provide recommendations. Furthermore if you are in need of a new program, we can develop an integrated plan to cover your needs.
After the survey, our clients have a far greater understanding of their security vulnerabilities. We carefully analyze all areas of the property working inward from the property's perimeter line to the interior of each building, then to the high security areas. We analyze current security measures to determine their adequacy in deterring or preventing crime and unauthorized access. Our focus is to provide you with recommendations that fit within your budget.
Whatever your security needs are single-post or multi-location operations we can tailor a program to fit your needs and enhance the level of safety and security. We recognize the unique requirements of your property and are prepared to provide you quality security services.
At Reliance you get a "Security program" and not just a "Guard". We pledge all of our company's resources toward the successful operation and protection of you and your property.