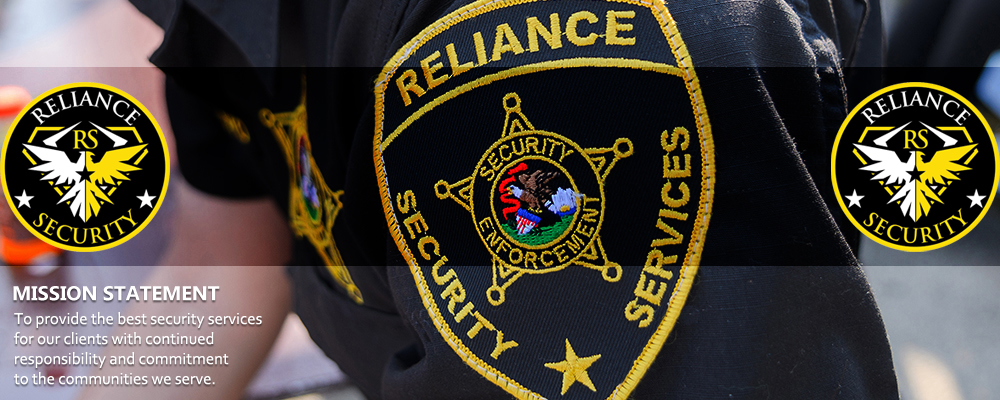 Dependence - Trust - Confidence - Superior Insurance - Reasonable Rates - Reporting Procedures - Superior Credentials- Client Priviledges
Welcome to Reliance Security Services
Ensuring the Protection of People, Property and Assets!
In light of the current situation regarding COVID-19, and in efforts to reduce the spread of the virus in order to protect our community and beyond, we decided not to interview any applicants in person. We strictly follow the social distancing recommendations by the Department of Public Health.
We are in urgent need of armed employees and will be screening all qualified applicants over the phone. Only those applicants who qualify to apply for FCC card will be invited to come in person.
When you hire Reliance Security Services - RSS, you don't just get a "Guard", you get a full Security Program. RSS conducts Free Security Survey-Assessment of our client's facility. This survey is conducted by our Certified Protection Professional. After the survey, at no cost to client, RSS experts design a full security plan specified to your needs. The security plan will consist of Four Key Components: Physical Plant/Equipment/Hardware, Policy, Procedure and Personal. This service gives us an opportunity to ensure that every job we take proves our "BRAND OF EXCELLENCE"!
RSS is a licensed Security Training Academy, accredited by IDPR -Illinois Department of Professional Regulations. RSS has developed comprehensive training programs to ensure that our personnel are courteous, friendly and project a professional demeanor at all time. No one can beat RSS, when it comes to training security personnel.
---
Illinois: 5744 W. Irving Park Road–Suite 1, Chicago, Ill. 60634, Contractor License: 119-001068. Agency License: 122-000953.

Indiana: 2441 Production Drive, Suite 112, Indianapolis, IN, 46241. Security Contractor License: SG21900017

CONTACT: Abe Khan, CPP, CFE: Illinois - Direct: 773-407-8849. Indiana - Direct: 317-427-8000.
E-Mail: Abe.Khan@RelianceSecurityOnline.com